Georg Aeberhard often called also "The Blank Czech" (not to be confused with a blank check!) or a man of no face or a man of many faces.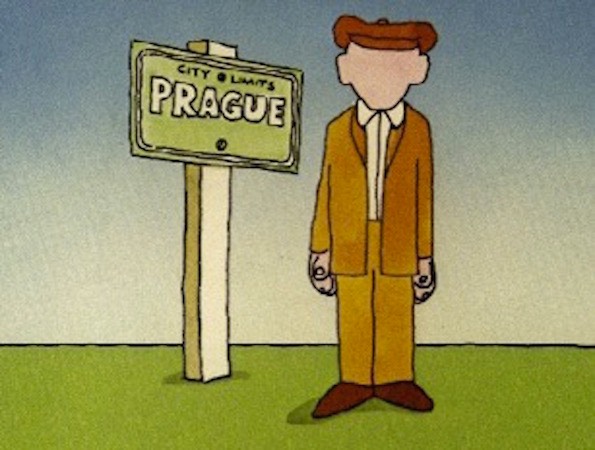 Now he runs around under the alias Georg Aeberhard. He has changed his proper family name Havrda see Habrda; verb to havrdit = to bark (also Habrda, Haberda see Habart; Habert) retracing Havrda to Aeberhard according to the expert study "Our Family Names", Dobrava Moldanová, mf, Prague 1983, we find Habart = Eberhart = strong as a boar; also Hadbert: and habart = Habart-a, Habart-ik, Habert Now, already here we see how many facetted the origins of our man in focus are: 
- did his ancestors bark extensively?
- were they strong to fight a boar by their bare hands?
- or was their weapon a hellebard? were they body guards? 
Let's have a look at his Bohemian ancestry: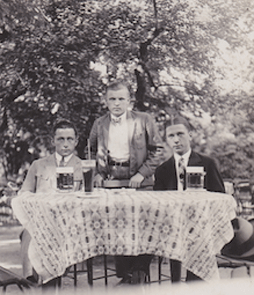 Georg Aeberhard's father on the right.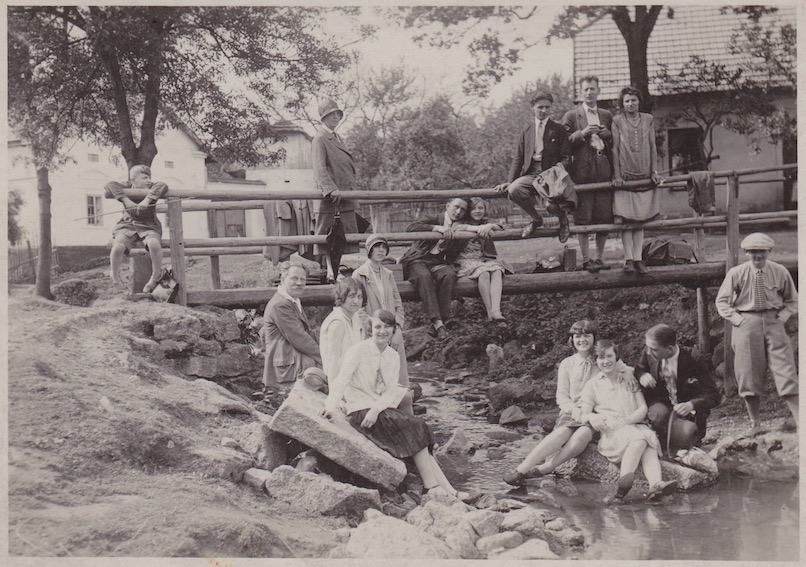 Georg Aeberhard's father is the only one not looking at the camera, apparently trying to charm the girl on his right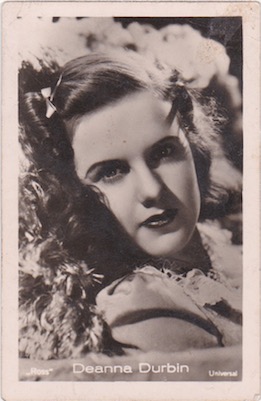 Georg Aeberhard's father certainly also tried to charm the famous star Deanna Durbin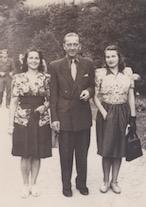 1947, Georg Aeberhard's father and his mother (on father's left)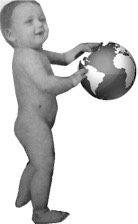 1949. Little Georg does not know yet that a year ago the communists putched themselves into power, on the day of his birth. There were parades held on his birthday, "the Victorious February". 
It is known for sure - thanks to the testimony of his kindergarten sweetheart Pavla - that little Georg grew up in the part of the city of Prague which a popular limerick warned you about: "Žižkovu a Libni, raději se vyhni" / "Better avoid Zizkov and Liben".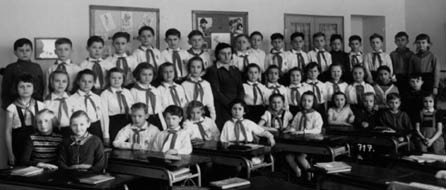 Georg Aeberhard, then Jiri Havrda, must be one of the pupils here - which one? And which one is his classmate Untermüller? First left, 3rd row (he is not dressed as a pioneer, the youth branch of the communist party, because his mother was an eager communist activist (given birth to nine children, hoping for one more to get a medal for it); Pavla, sixth right (sorry, fifth), the second row (at this time no more childhood sweetheart). Yes, you have counted well: 1 teacher / 44 pupils.
Up into the universe - tv clip in honor of Juri Gagarin, 1961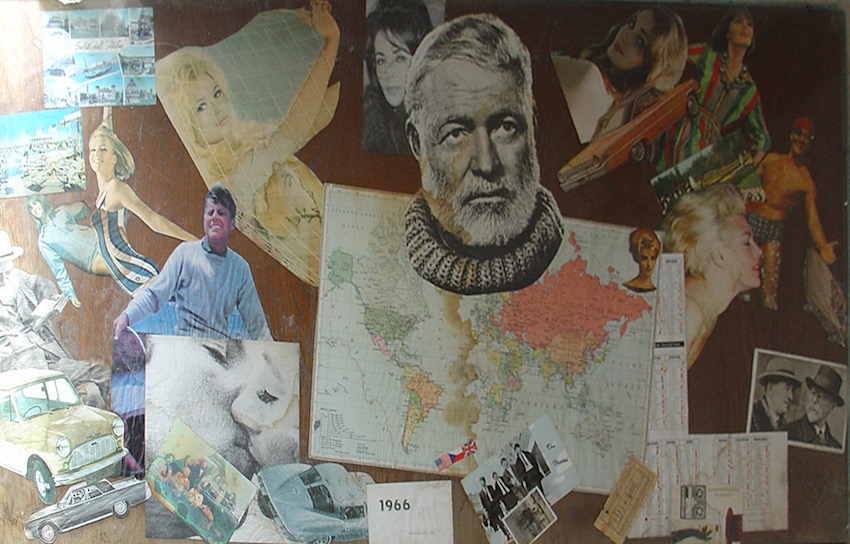 Adolescence... According to oral testimonies of Aeberhard's old time friends, the maestro's fascination with the medium film ("truth 24 times a second!"[Jean-Luc Godard]) was guided by his urgent desire to direct a film starring Julie Christie, Brigitte Bardot, Anna Wiacemska, Anouk Aimee, Claudia Cardinale, Monika Viti and many more (here not necessarily in a chronological order). A proof of this fascination might be Aeberhard's school desk (actually still Havrda's). Shortly before it was thrown out of the window, a watchful neigbour got a snap shot of this invaluable place of acculturation in the time of socialist realism: one has to learn Russian, to love its party leaders and stay friends forever and never adversly (Na věčné časy a nikdy jinak). That's what is the desk about: some of you might recognize several subjects of the times of the sixties. Among the men like Hemingway, Kennedy (here doubling for Jack London) or both Masaryks, we find the lovely faces of Anouk Aimée, BB, Marilyn Monroe, Liz Taylor and other daily inspiration fairies. The musculous man in the upper right corner hints at the fact that Aeberhard was torn between the sports (track and field) and the arts (film). Unfortunately, both careers failed to large degree. Well, at the age of 16 Aeberhard did a honor to his name (strong as a boar) by becoming junior master in the dicsiple of shot put: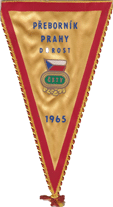 Shot put (and poetry!) - we are at the beginning of Georg's life long friendship with Bohouš who introduced him among other things to "Howl", to the beatnik culture in general (see bellow).
Driven towards the West (see Jack London, John Steinbeck, William Saroyan, Allen Ginsberg, ), the pubescent Aeberhard started to learn the English language from his father's booklet "Teach Yourself By Yourself"; instinctively he looked for help in Great Brittain and soon he found a pen friend there: Sandra.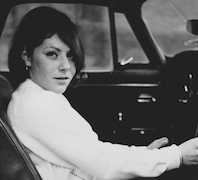 Great impact upon his farther personal development had the deportation of Allen Ginsberg from Havana in 1965 to Prague where he was elected "The King of Mai"; in the crowd of 100 000 people George Aeberhard was also cheering, then 16 years old: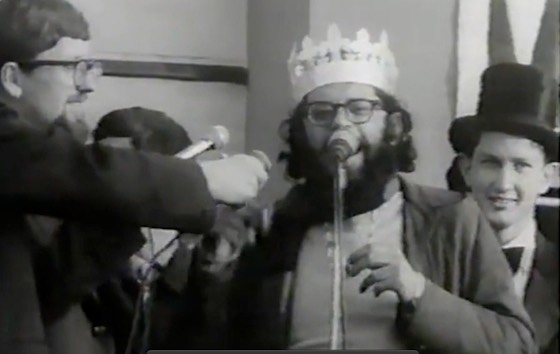 "And I am the King of May, which is the power of sexual youth,/and I am the King of May, which is industry in eloquence and action in amour,/and I am the King of May, which is long hair of Adam and the Beard of my own body/and I am the King of May which is Kral Majales in the Czechoslovakian tongue.." 
a report: "The Deportation of the King of May" by Peter Blažek
The Spring of 1968. Georg Aeberhard attends the inauguration of the new president Svoboda on March 30. From the alley in the back he is watching the ousted president Novotný to take a seat; a feature length doc is shot by Karel Vachek on that occasion (Czech only): https://www.youtube.com/watch?v=eyvxboWBcnE
1968. Georg Aeberhard starts to direct his first film inspired by Nietzsche's "Also sprach Zarathustra"; which ends up as a compilation of fragments…
Georg Aeberhard on the left (supporting part), Jaroslav (main part) on the right, a nameless starlet above them.
And Georg has to make money to finish the film, he looks for work in the GDR.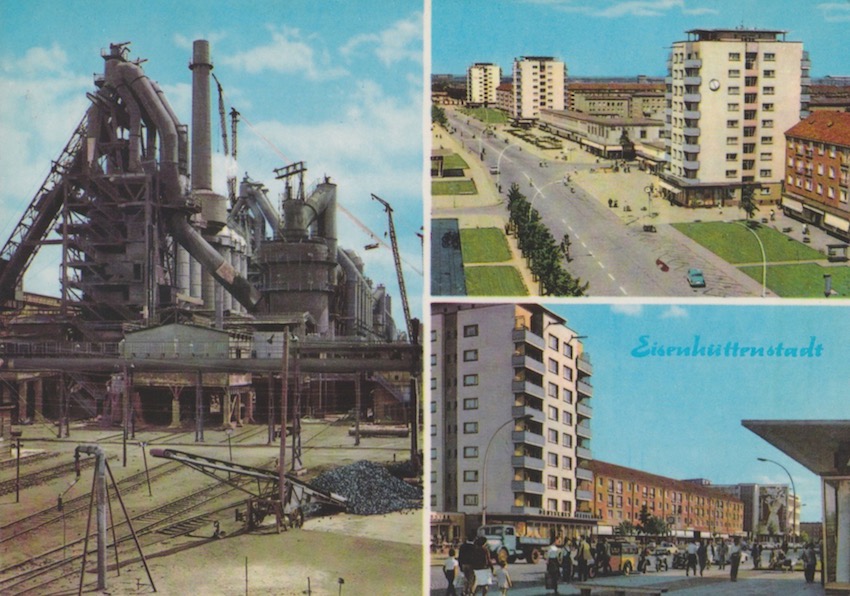 And because subversive talk on the construction site, he got himself deported from one brotherly country to another: from the GDR to the CSSR. The night before his extradiction the brotherly Russian tanks moved into his homeland.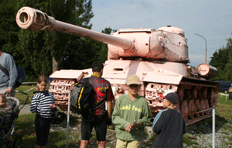 Georg was confronted by a mass invasion from deep inside of Asia, and he decided to leave his raped home town Prague. Georg Aeberhard's rudimentary English now came handy. Later in life, it has inspired him to the film title "A Russian seldom comes alone (and likes to stay)", but unfortunately it has proven itself impossible to provide the 3000 and more tanks to set up the film's opening scene of the actual invasion. Aeberhard is being quated on this subject as: "No more, please!" These words must have been ringing in the ears of towaryschtch (later gospodin) Michail Gorbatschev when, 40 years later, has called off the occupation and the Russians went back home, taking the tanks with them. One remained, the one of Mai 1945.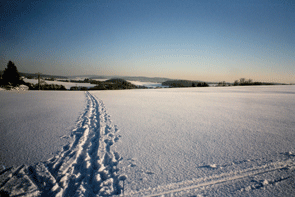 After 1968, Aeberhard's whereabouts kind of get lost and remain hazy: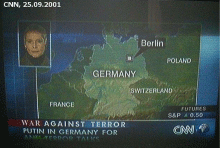 In the CNN report the country of his origins was misplaced, and since then could not be identified anymore. But actually, Georg Aeberhard lived in Switzerland, though a littler bit more southwards than on this map; now he was safe…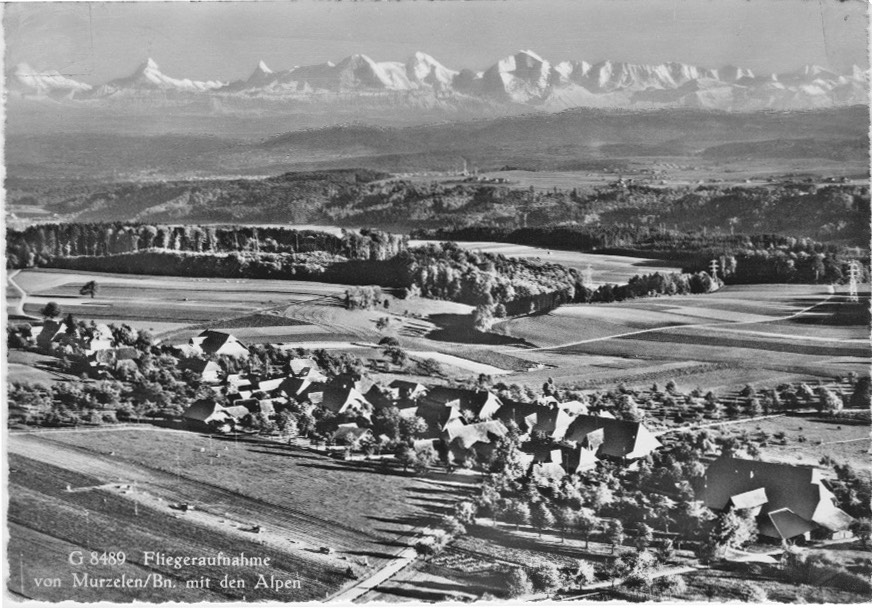 Georg Aeberhard suffered under anthropophobia (though not misogyne, to women he was rather accommodating). Therefore he better had started his career  working in a puppet theatre ensemble, mostly on tours .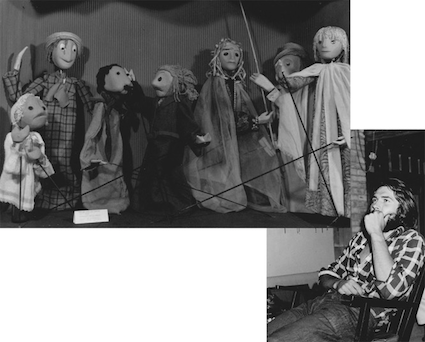 © puppets Monika Demenga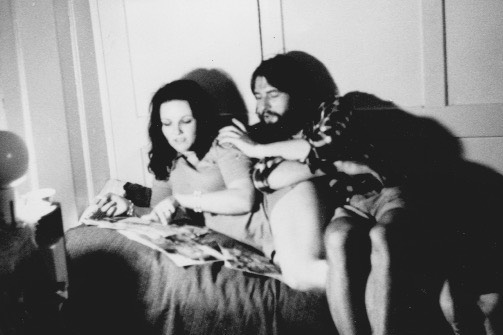 And like his father, Georg could not resist the urge to charm ladies (though in this case it was the other way around, really).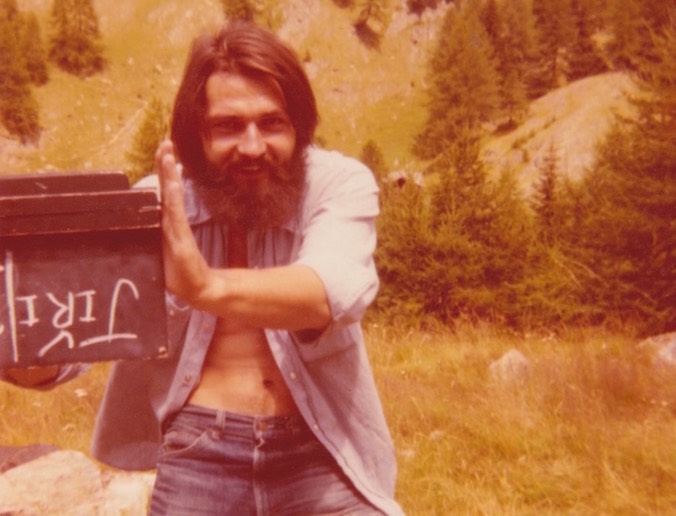 Leaving the puppets, bringing the life among the insects to an end, Georg finally was able to make his move towards film making (under his proper name Jiří). Georg started as a best boy, a lighting man and a production manager. As a production manager he made himself a name for his great improvisation skills (here an example of a crew accommodation while on a  tour).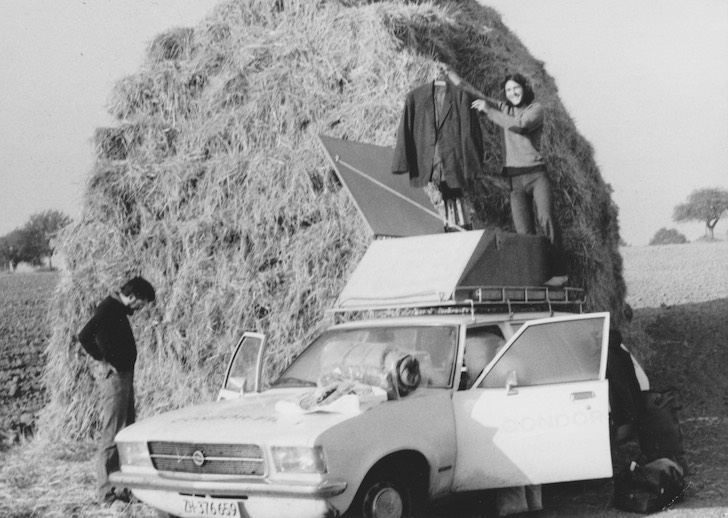 Soon he had enough of "ciack, ciack" and "hello, here is… and com'on") and he set off for the USA to look for an academic eduction to become a film maker; still slightly anthropophob, he aimed for the "expanded cinema", resp. animation film.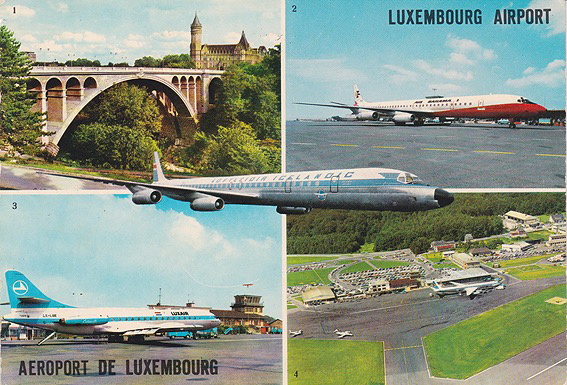 Since he travelled in January, Georg took the charter from Luxembourg to Bahamas, from there he flew on to Miami and moved gradually up North and to the West.
While hicthhiking across the USA, he could not but to heal himself of his anthropophobia.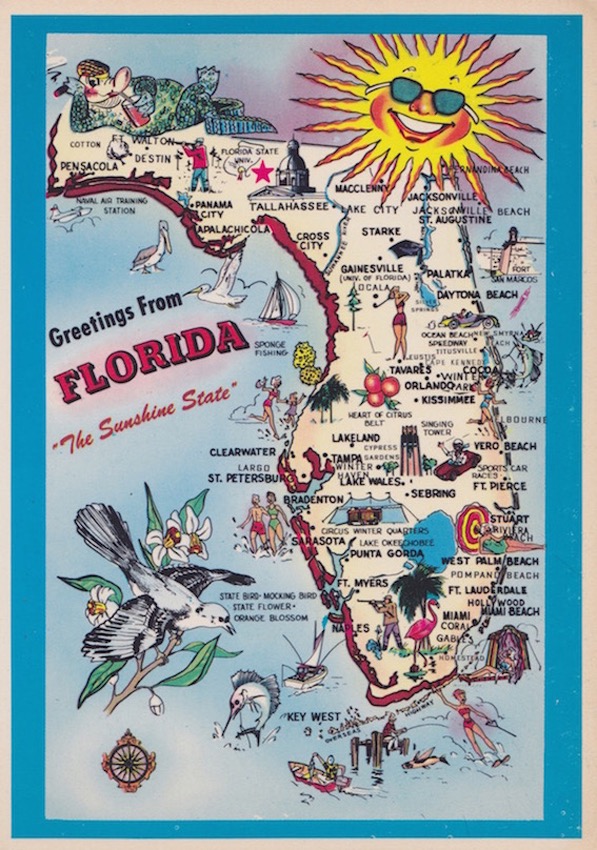 Staying for a few days with friends of friends in Atlanta, Georg got himself an old Chevy Impala for 💲 250.-: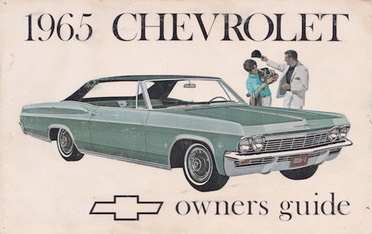 From his friends and his father he had a few addresses in the USA, one of which was of the small town Rowena, Texas, whereto a relative of his grandmother descent emigrated before WWI (It's all cotton there, 360 degrees around). Georg of course is the "long hair" among the "red necks".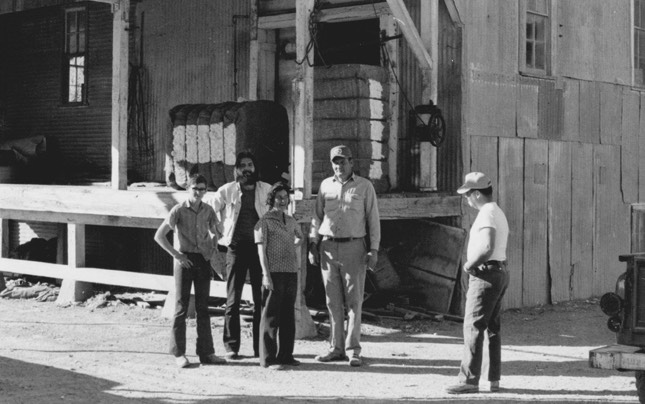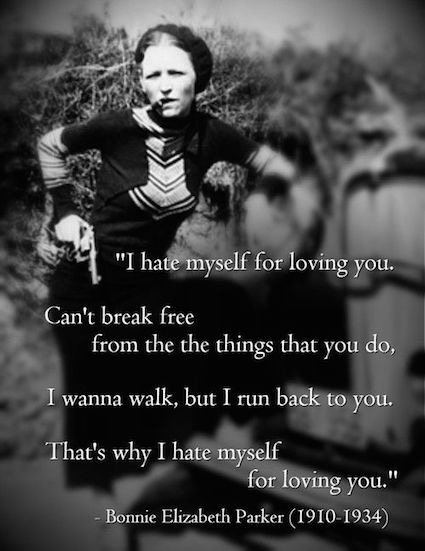 To his surprise, Georg found out that Rowena (in Czech meaning "a Plain") was the birthplace of Bonnie Parker. 
And off we go: having passed Tampa, St.Petersburg, Orlando, St.Augustin, Atlanta, New Orleans, Austin and Rowena, it is now Grand Canyon, Santa Fee, Las Vegas, Los Angeles, San Francisco, Berkeley… There Georg Aeberhard celebrated his 25th birthday; a most beautiful present was waiting for him on Ashby Avenue.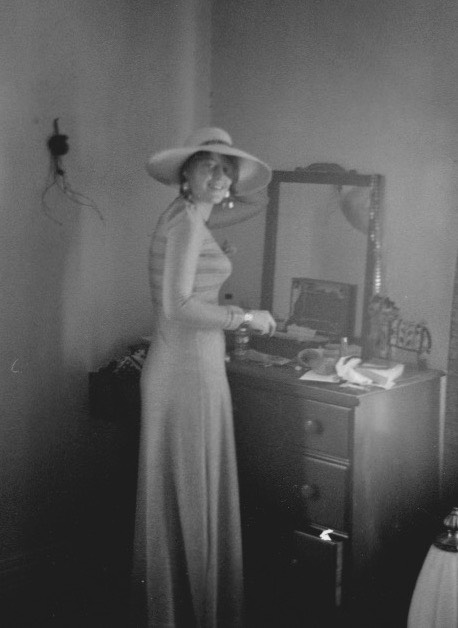 Together with another recommended Czech friend, returning from San Francisco to Berkeley, and having seen light in the windows of a house on Ashby, they stopped and had themselves invited to a party - at 3 o'clock in the morning. Georg found himself in love up to his ears and the very next day he showed up at the door with a bouquet. Yes!!! 
Georg sold his reliable Chevy for for 💲 250.-. Then he spent three days and nights on the train to Chicago, continued to Toronto by "Greyhound" to see his friend Bohouš (shot put and poetry), flew to New York and back to Luxembourg.
He made it back to Switzerland and started to get prepared for the dear visit of his great love from California, organizing a welcome committee (see bellow).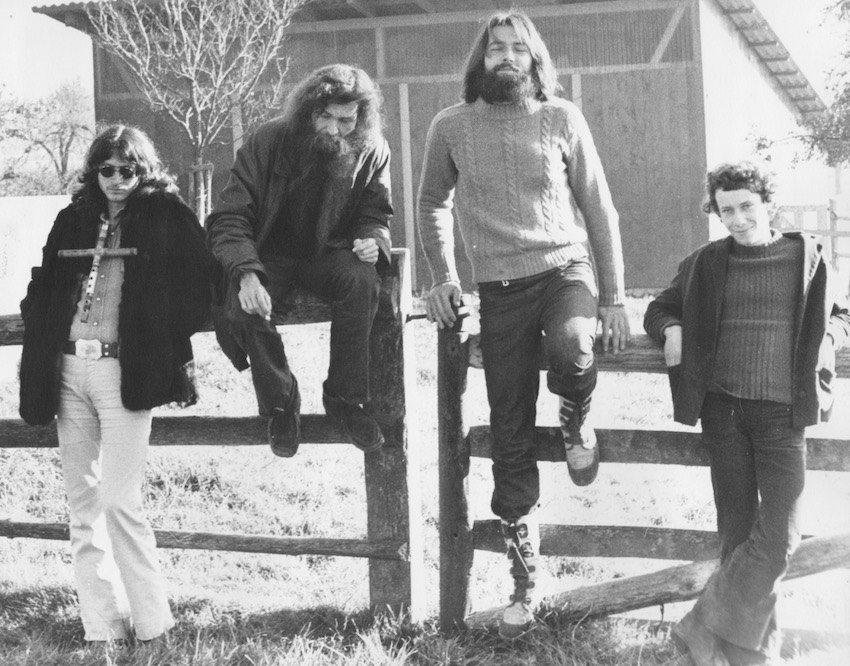 The love birds had lot of fun touring Southern Europe, in the proper style of the Hippie Years. Actually it was rather question of available funds...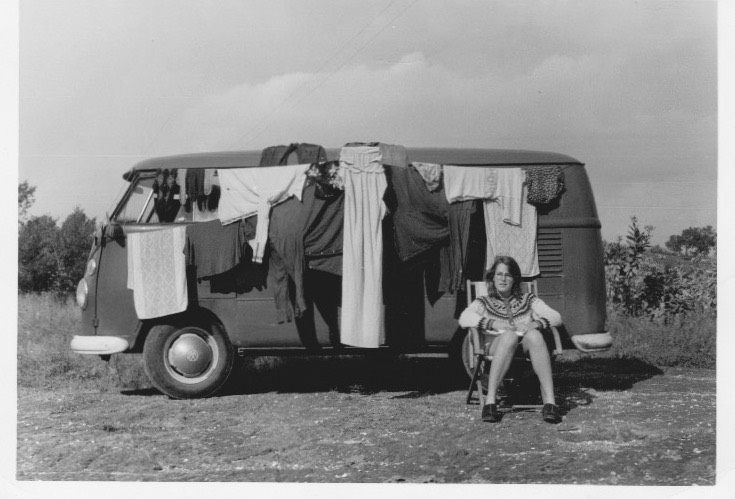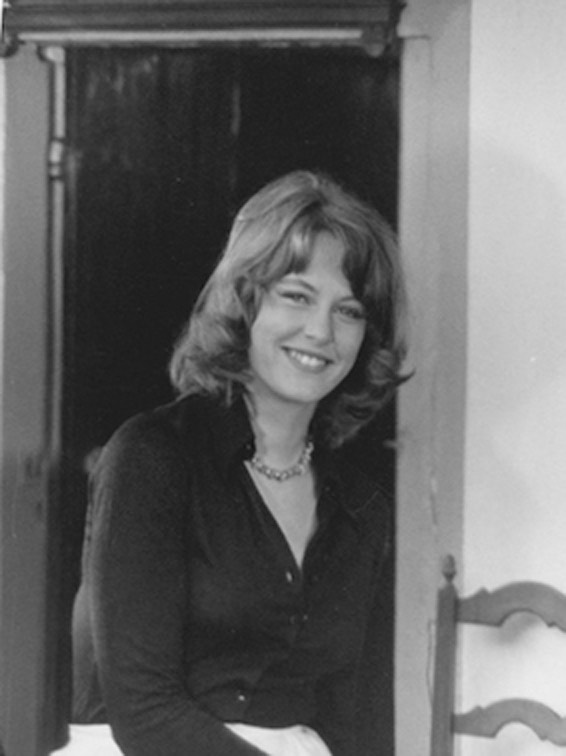 Georg's sweet heart came from a Hollywood family. If she would not have fallen for Georg she might have made a career in the movie business. Instead she stood Georg by when they moved to San Francisco and Georg picked up his studies "in arts in film" (Yes, under his proper name which was quite a hassle: Jiri sounded like Jerry or even Jerk).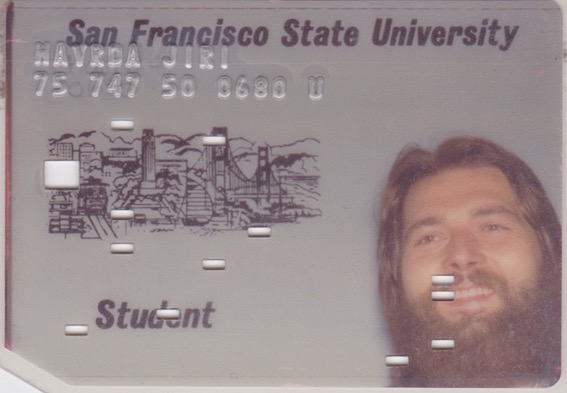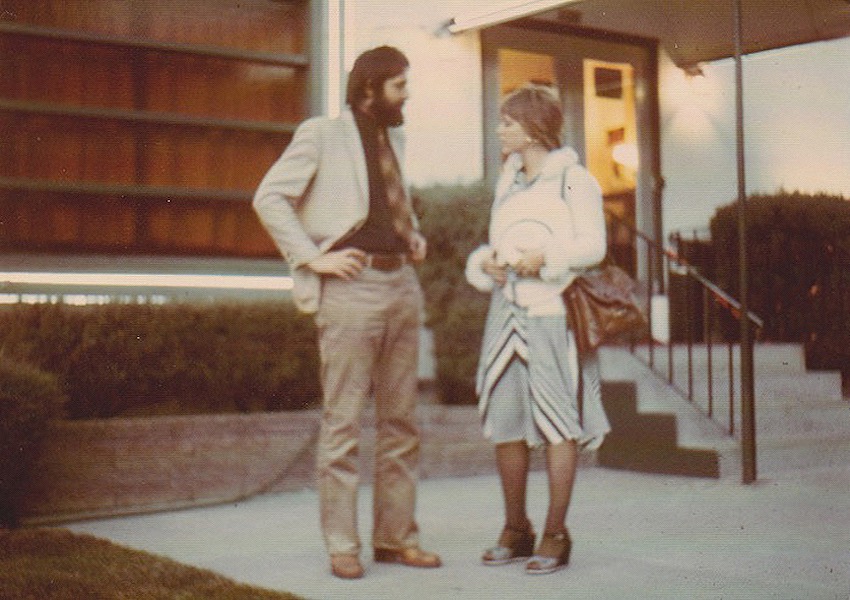 Shortly before Georg had to get back to Switzerland, his BA diploma in the pocket, the couple got married in Reno, Nevada. It took Georg subsequently 8 years to get the divorce, so that he could apply to become Swiss.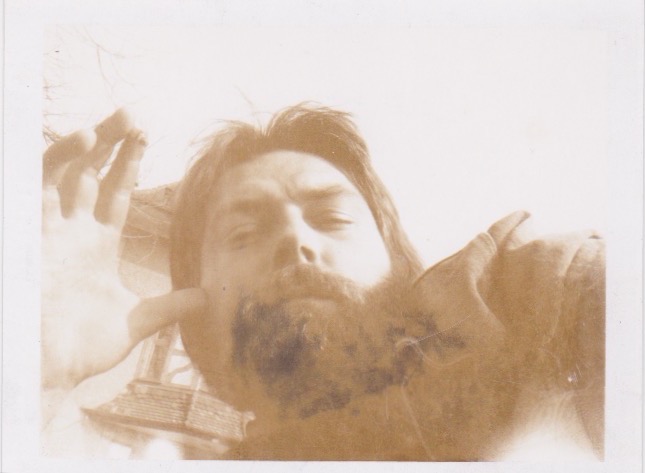 Upon return to Europe in 1977: What's going on? What am I going to do?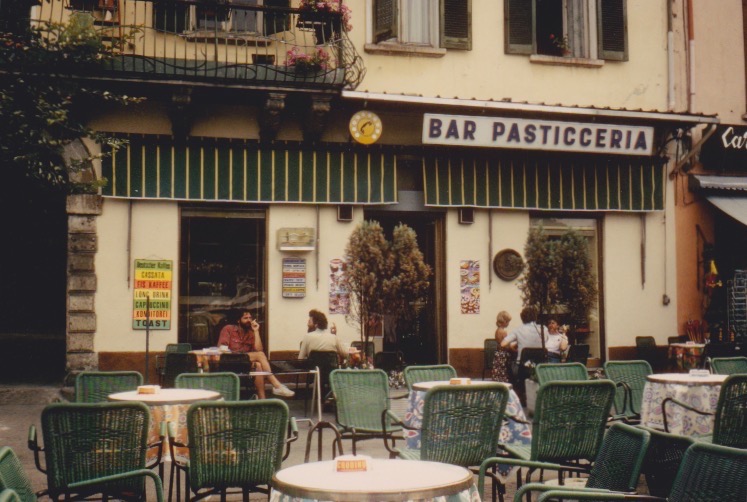 Italy, bella Italia, was a place Georg loved to refresh mentally from his free lance film making; he visited mainly museums, churches and other historic monuments.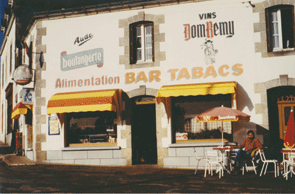 France. In this country Georg was interested in similar cultural monuments. Sainte Brigitte, the village near the Moulin du Corbeau, where Georg's friend Reon, "potier diabolique and painter fantastique", originally from Prague, had his studio.
Georg used to come here to relax, to Reon's Argondia, le pays de réves...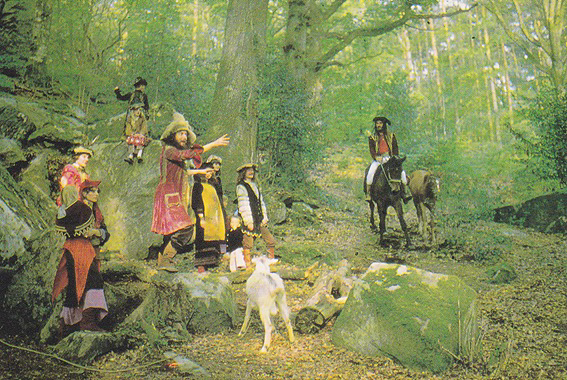 In the absence of his father (since 1968), the painter Čeněk Pražák, a great admirer of the three musketeers, became Georg's step-father. The painter adored d'Artagnan and Georg liked to imagine himself Porthos. Next to travesties and enjoying Rioja, they also discussed art
▶︎ "Cenek Prazak" deutsche Untertitel (40'/721Mb!!!)
▶︎  "Cenek Prazak" in Czech (40'/620Mb)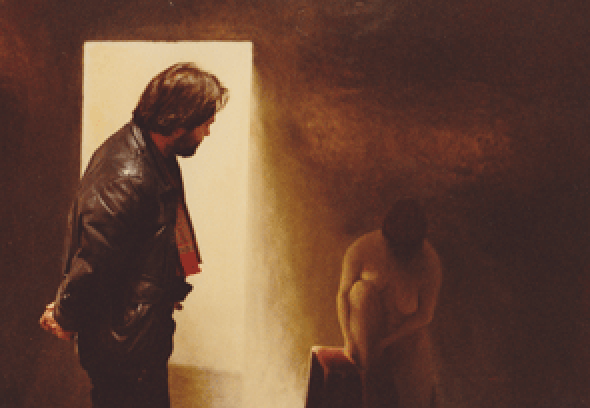 And in his new home town Zurich, Georg didn't miss a single art exhibition. Mainly he was interested in one returning, eternal subject (or rather object?).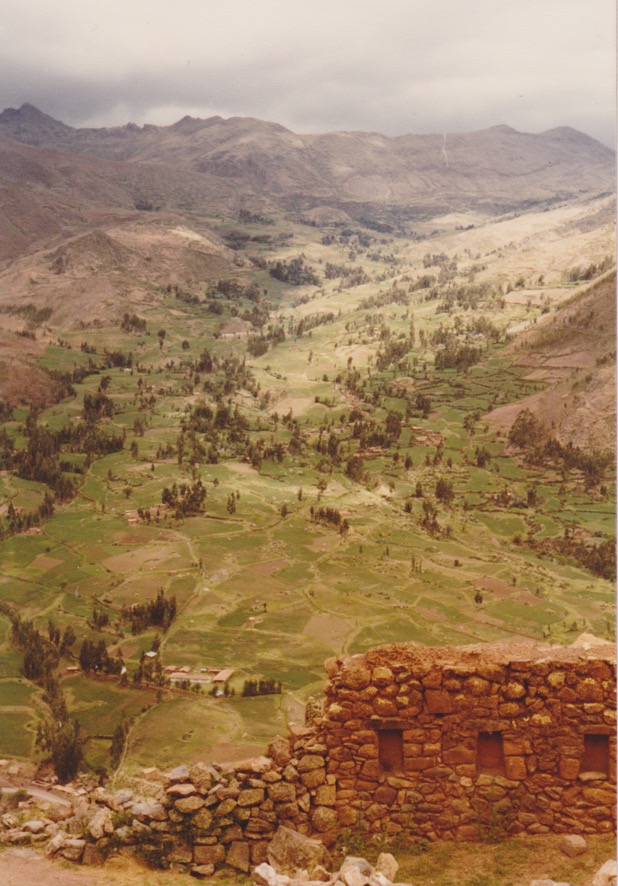 But his work took Georg also to distant places around the world, mainly to be confronted with misery (see CV and/or http://galerie9.com/manuscripts/manuscripts-1/nancy---a-story-not-to-be/index.html).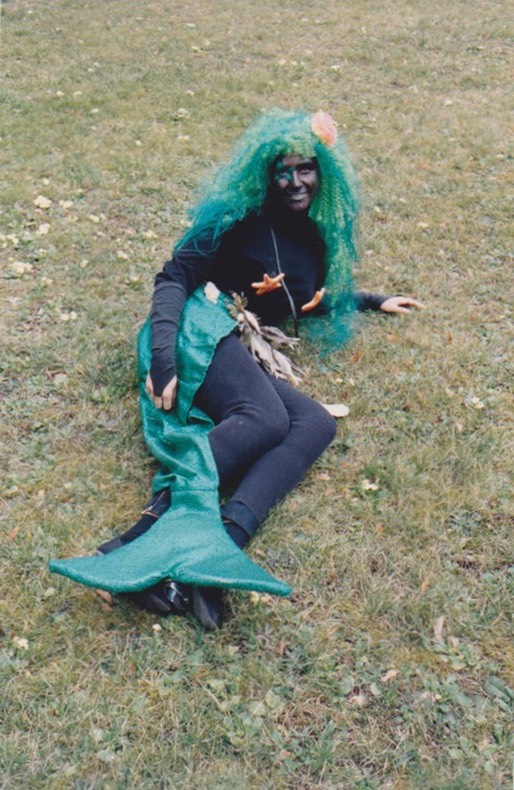 Coming back from an expedition to the Black Hills, South Dakota, staying with Indians occupying their Holy Land in 1985, Georg lured a mermaid into his net (him being a pisces as well).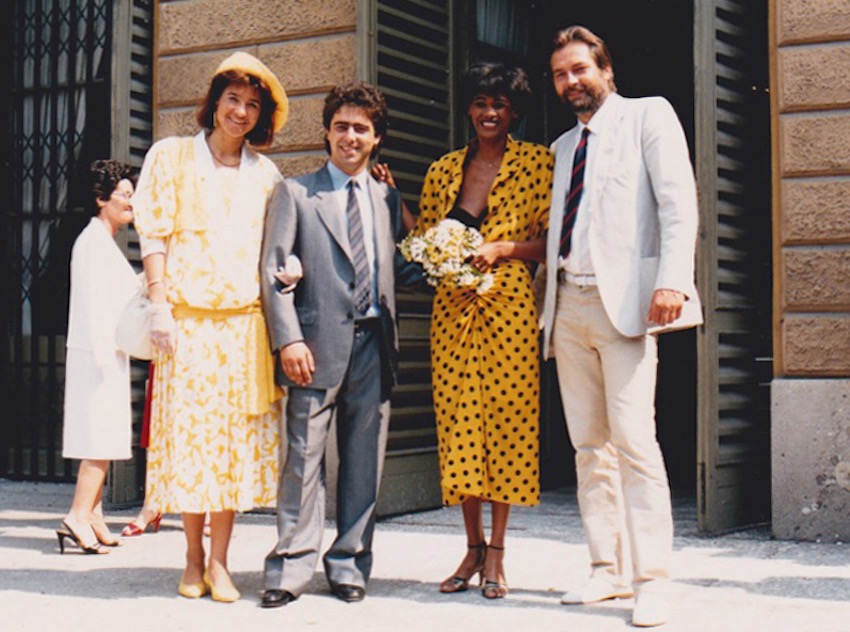 Together for an extensive periode of time, they attended the marriage of Georg's "half sister" (by fate) from Brazil, whom he met on the Lake Titicaca, Peru, in 1981, while she was on the run from the military dictatorship (see manuscripts and CV). These four people represent: a Finn of lapplandish and swedish origins, an Italian of Jewish ancestors coming from Galicia, a Brazilian of Portugues, Angolan, and Amazon roots, and Georg, just plain Czech from Prague (Did anyone speak of "globalization" in 1985?).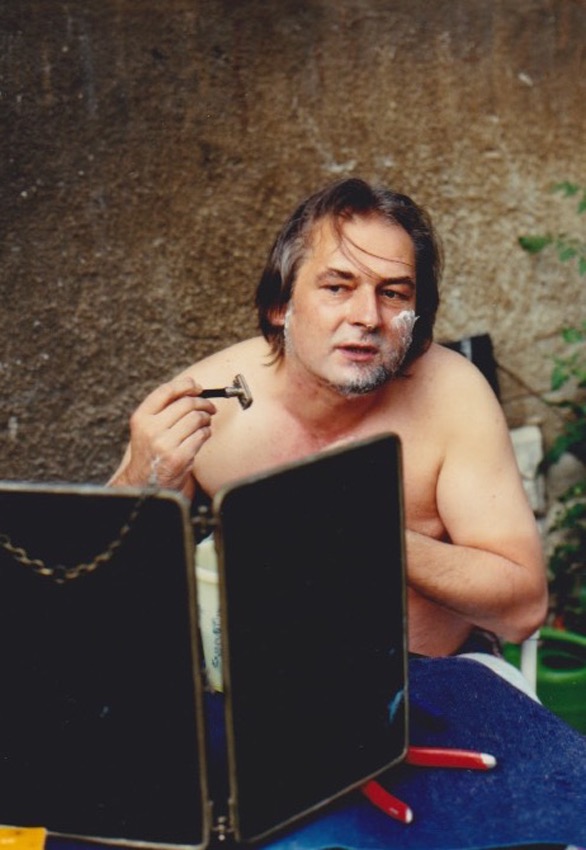 In the beginning we mentioned Georg to be known as "The Blank Czech" (not to be confused with a blank check!) or a man of no face or a man of many faces." Here he is experimenting with a new variation.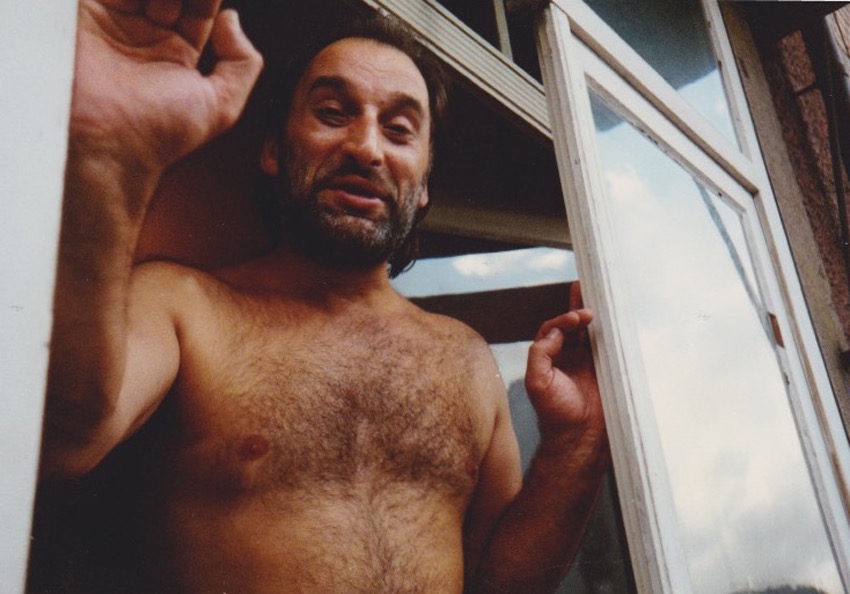 Bohouš (Prague, Toronto, St.Brigitte, Amsterdam, Lažiště, Amsterdam), Georg's youth friend (shot put and poetry) visiting in Zurich to cause some turmoil as always. Bohouš himself felt quite comfortable in the world of the Alps with its ancient customs.
In 1988, after the Iron Curtain melted down, after 40 years of oppression, Georg Aeberhard also wished to have a look. Walking the previously fine mosaic sidewalks of his beloved city of Prague, he sprinkled his ankle on a spot like this…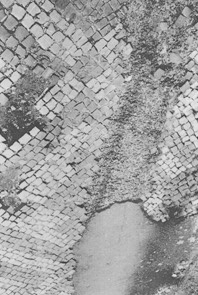 But only a year later the 41 years lasting nitemare is over: on November 17, 1989, the Velvet Revolution swipes the red plague away; unfortunately mostly on the surface only.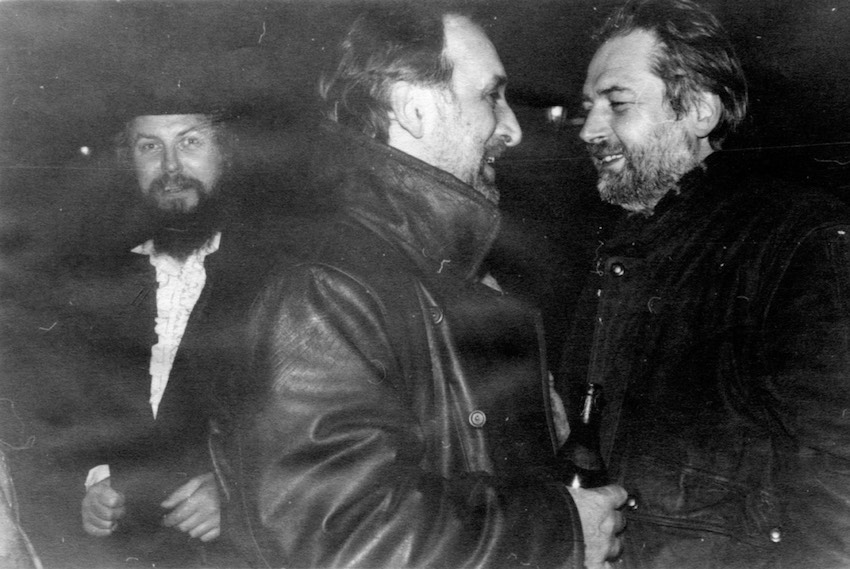 December 31, old friends meet in Prague after 21 years: Reon, Bohouš, Georg alias Dědek and others come together from all over the world to celebrate the New Year following the Velvet Revolution.
The playwright, the dissident Václav Havel, is now well established as the new president, residing in the castle above Prague.
In spite of all the excitement, Georg Aeberhard remains Aeberhard and he keeps on living in Zurich and is lucky to produce from time to time a film which is to his liking as in regard to the subject. In his free time frequenting Zurichs legal as well as illegal bars, he gets to know a vivacious, charming red hair - Georg falls in love once again. The happy couple gets married and the gracious nature awards them with twins, boy and a girl, on April 1, 1995.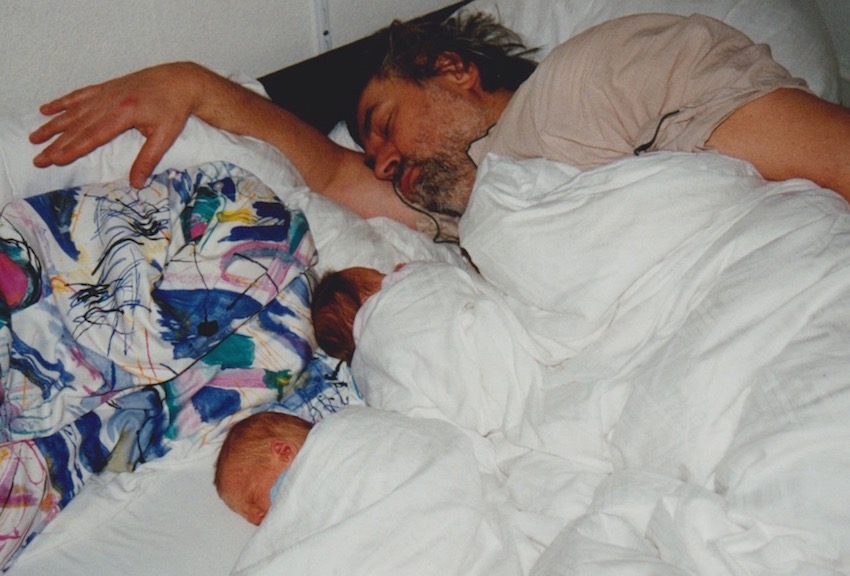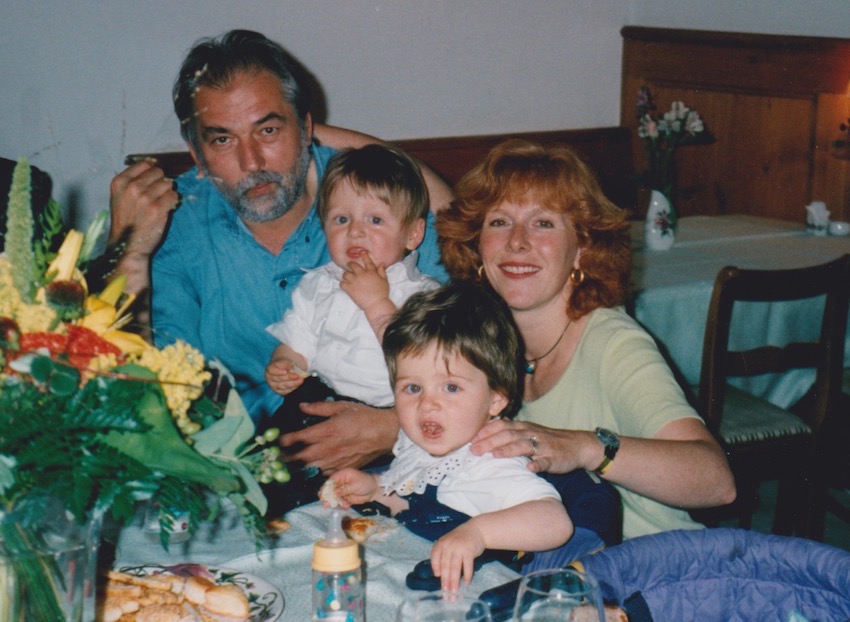 In spite of the double load (Georg used to talk about his twins as his best film in stereo), he managed to push through some of his projects, some coproduced with the Swiss Italian TV, some with the Czech TV, the subjects being art, art history and artists (see CV). He was happy!!! His country free, in love, beautiful children, interesting work and a housing of his dreams - in Bohemia, by a chain of coincidences …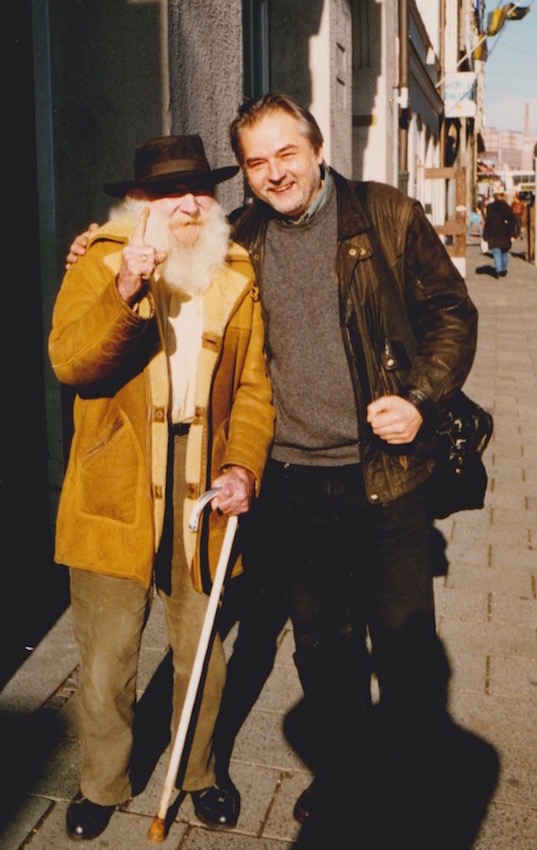 Verne on the left, 90 less one, Georg's friend in Munich during a festival he was invited to in 1995 (see CV ). Verne loved beer and Asbach Uralt, which he used to call "Holy Water". He died in 2001; his ashes are deposited and on display in an empty bottle of "Mountain Rum" in a bar in the town of Sonoma, CA.
Georg Aeberhard and his wife decide to live in Bohemia, in a small village half an hour away from Prague. They had the ruines of a larger estate reconstructed and they open - an art gallery.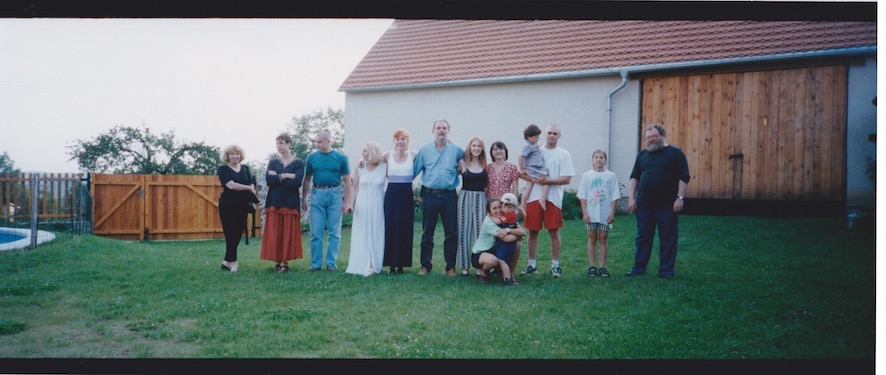 Those seemingly idyllic years you may follow here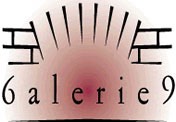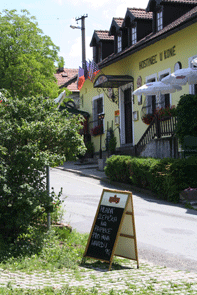 The decisive element to settle down in this village was the restaurant across the village pond where the inkeeper had Pilsner Urquell on tab; also he had the unique - well deserved - reputation (and fine skills) to have cooked for the Pope as well as for the English queen Elisabeth while they visited Prague. Now he served Aeberhard's family as well (http://www.klokocna.cz).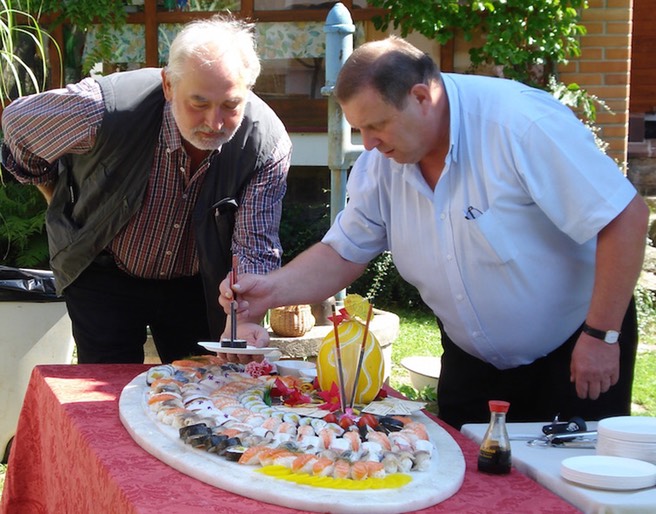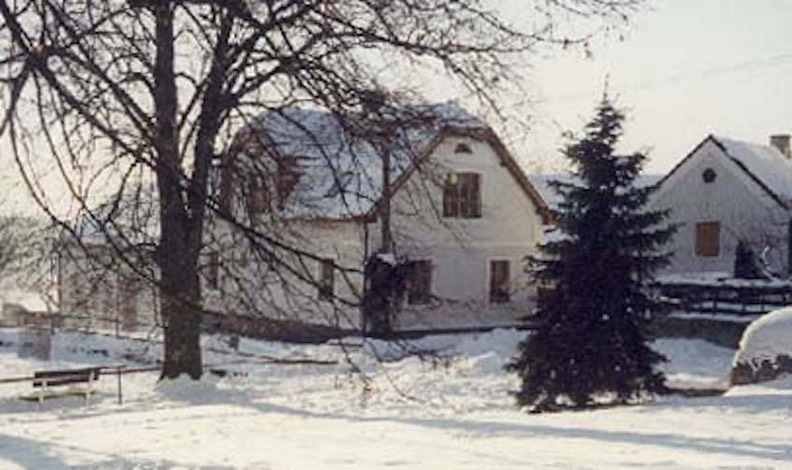 Everything seems to be fine. Georg's wife learns Czech, the children start the schooling there, they make friends easily…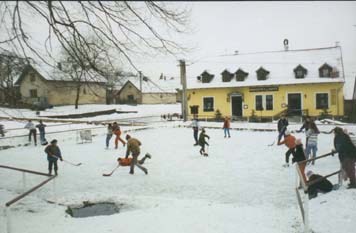 In the meantime visitors keep coming, some from far away…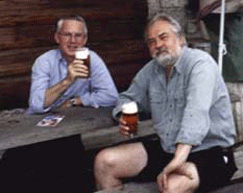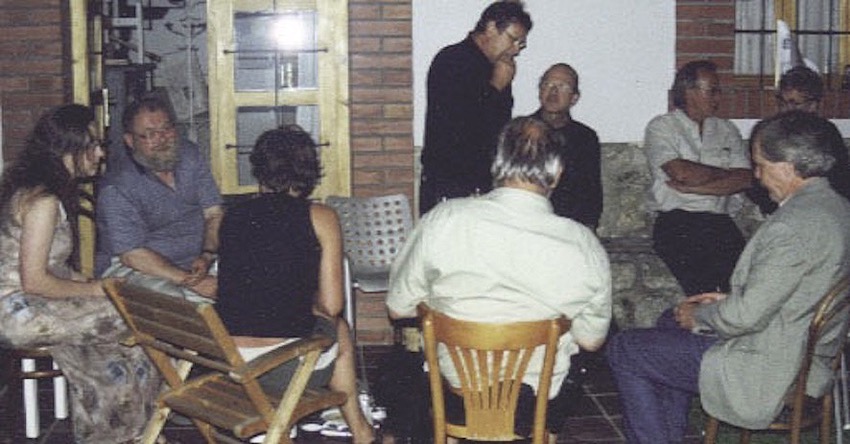 Gatto-Filmgruppe visits Galerie 9. Georg's film buddies from Zürich: Peter Spörri, Dani Bodmer, Peter Stierlin, Toby Wyss, Hans Liechti; on the left, between the two women ing. Miroslav Hlaveš; missing are Alfi Sinniger, Martin Steiner, Rainer Klausmann, Dr. Walo Deuber und Paul Riniker (Once again, we see only Georg Aeberhard's backside.)

 Then, even T.W., the famous celebrated film critic from Berkeley, California, originally from Warszawa, Polen, arrives in Europe after only 35 years of emigration. The picture of his shady figure was taken by Georg Aeberhard himself. Coming from Warszawa to Prague, the train had a very interesting composition: a wagon for every country it has crossed: Russia, Belarus, Lithuania, Polen, Slovakia and Czech Republic.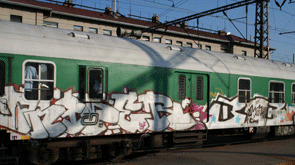 As an American, T.W.'s greatest impressions from the now free East were sex and booze - he photographed the shocking billboards himself: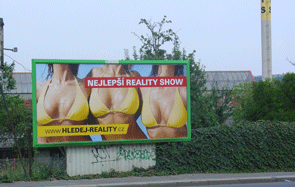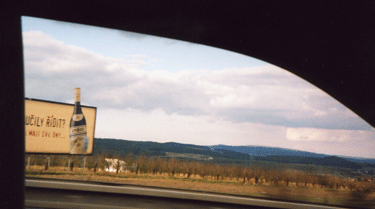 And he fell in love with Katharzyna...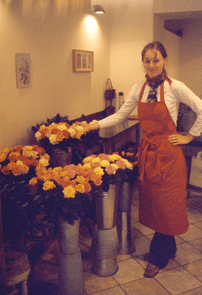 In this lovely idyllic picture, we have the rare pleasure to see Georg Aeberhard himself - unfortunately he is the one on the outer left (sitting T.W., also known by the name Steyermark).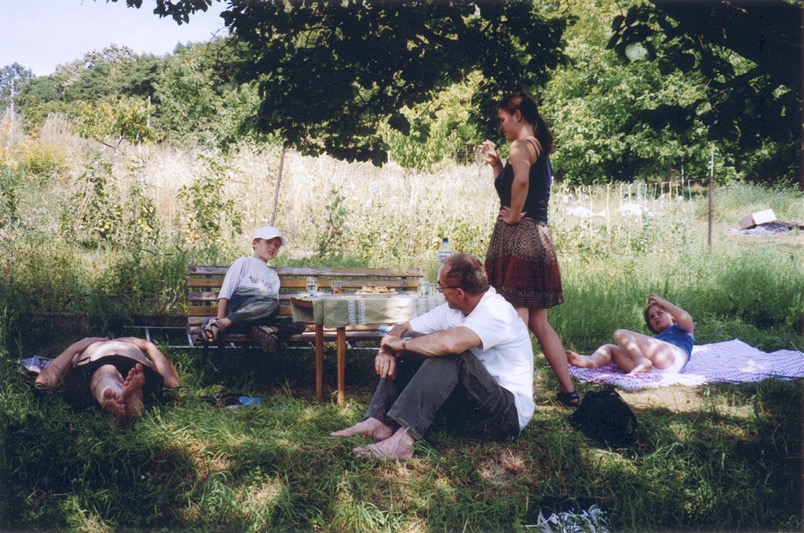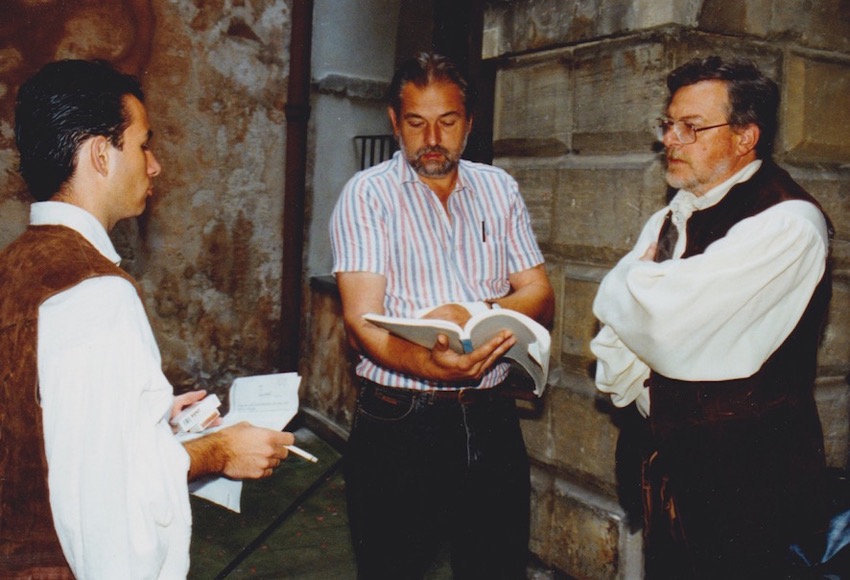 Soon the film making life comes to an end. Georg Aeberhard makes a semi-documentary about the centuries long collaboration of  the Swiss Italian builders and architects in Prague, in Bohemia in general. The main critic (from "Mladá Fronta") does not talk about the film, he ridicules the Czech actors who work for pittons with some second rate emigrants would like to be film makers. On top, in Italy nobody is interested to be told that so many renaisance castles, monasteries and churches were built by citizens od "confederatio helvetica"; the Swiss Italian just don't care for the fundamental research done for the movie which Georg presents: the Bohemian builders, starting 1530, are coming from Lugano und two vallies adjoining it: Vale Muggio and Val Mara (see "Artisti dei laghi", CV).
In 1998 Georg Aeberhard gets a phone call: "Jiříčku, here's Tollinger…", a feeble voice announces a man Georg should know. Yes, Dr. Tollinger! His pediatrician. He could remember his face, he was about four years old seeing him the last time… Dr. Tollinger happened to see a documentary by Georg on TV and he suggested that his work might be also of interest. After having finished practicing he became a "healer" and he helped people to cure the aftereffects of the Tsjernobyl radiation. Dr. Jaroslav Tollinger was 90 years old at that moment, and Georg was lucky to place his portrait with the Czech TV. It was to be Aeberhard's last work; it was aired in 1999 under the title "They think I'm crazy…"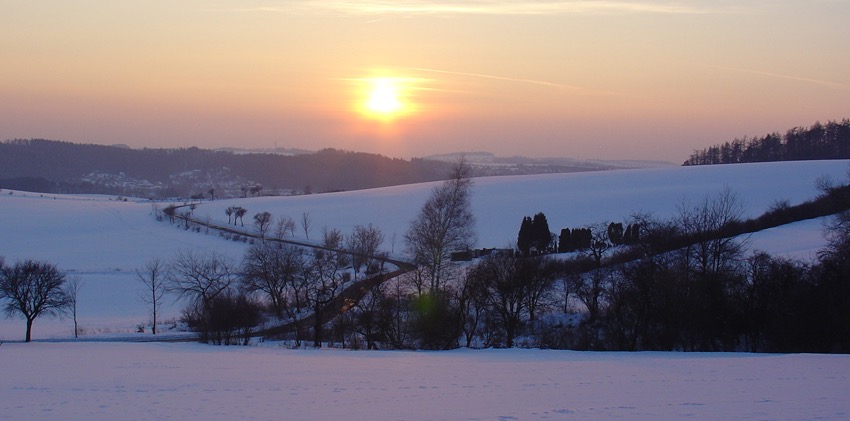 Georg Aeberhard's mother dies at the age of 80, in 2006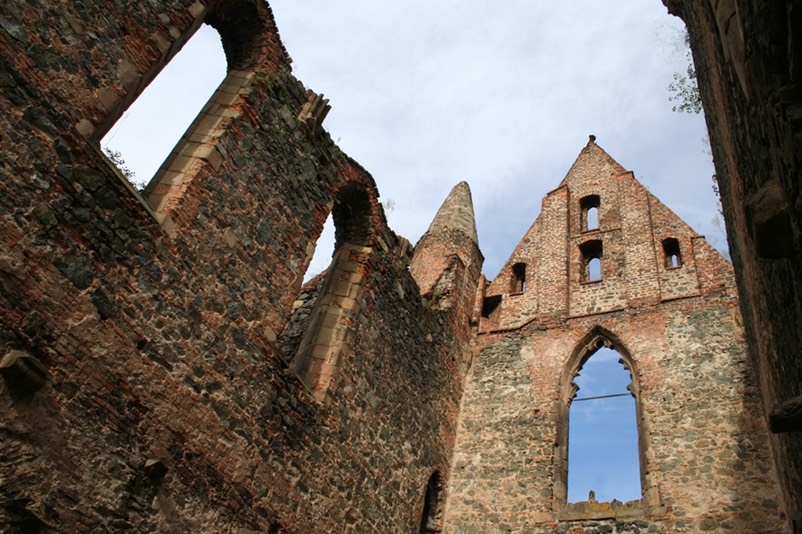 In this small Moravian town starts Georg's paternal line; a visit is recommended (at least virtually)
But Georg is in despair watching the country transfixed in old bad habits, corruption spreading, no remedy in sight… After 10 years of living in Bohemia, the couple agrees they will have to decide if to return back to Switzerland, not wishing to have their children to grow up in that kind of moral environment (not to talk about the environment as such). Georg and his wife make a pro and contra list - they decide to move upon the results of a vote which manifests peoples's leftist mind; a brewer company places large billboards all over the country saying "The world has gone crazy. Hold on to it...".
... ready for (N)OSTALGIA? 

Having spent some dozen years in Bohemia, Aeberhard's family packs its things, goes back towards the West...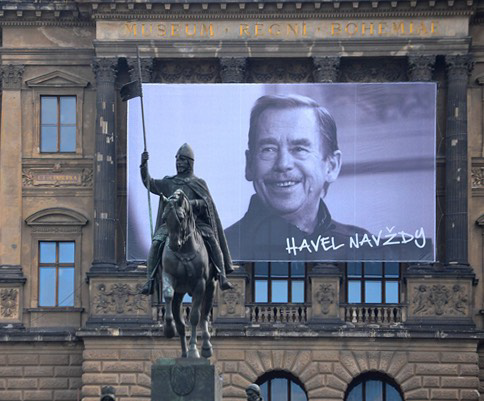 Bye, bye Václav (HAVEL FOREVER)
In June 2009 the family leaves the Czech republic,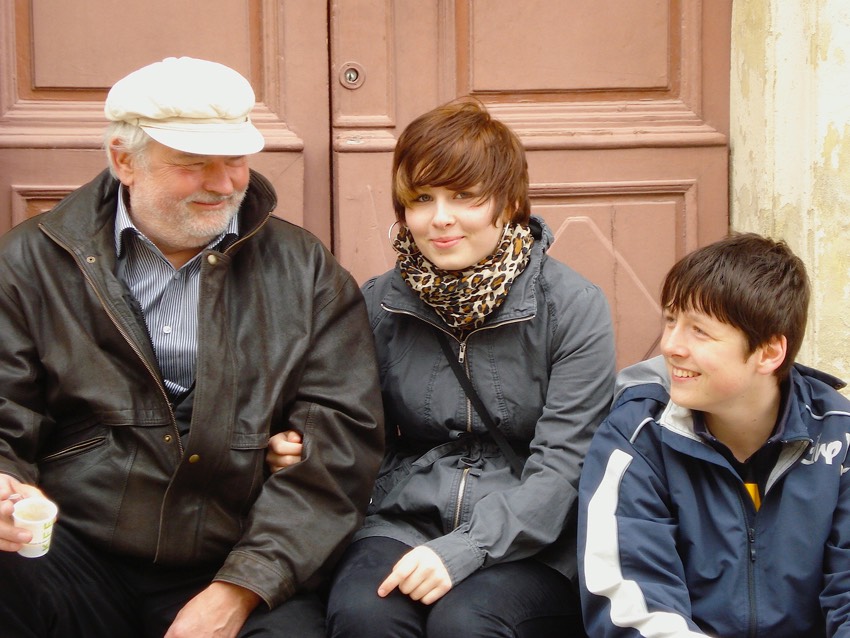 they settle down in the home town of Georg's wife. Unfortunately, the move has the family to become "nuclear" -Georg being jettisoned a year later…
… a three months long exile followed in a rather lovely environment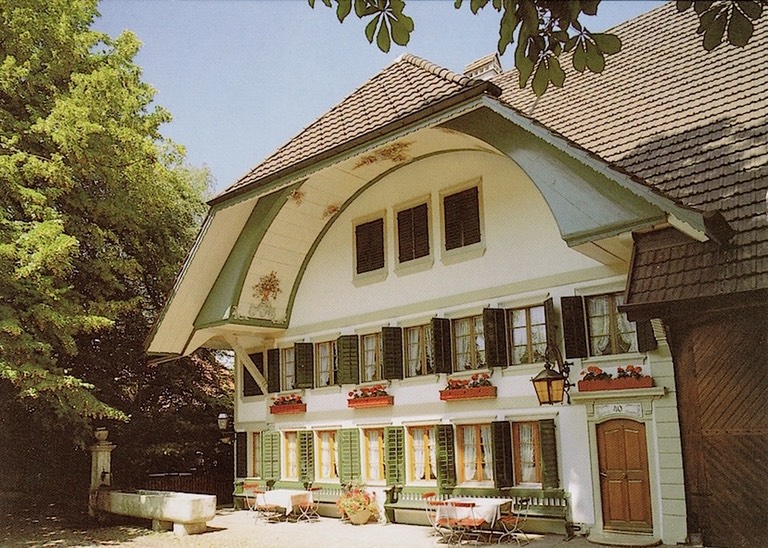 see a clip "Auszeit" (Time-Out)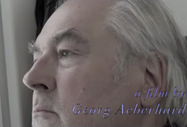 "going nowhere" (working title "Cherchez la femme")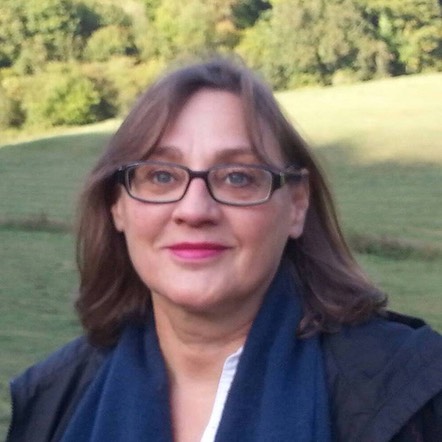 2012, a resurrection angel brings Georg back to life;
he has his great wish come true: the Panama Canal and one last time to San Francisco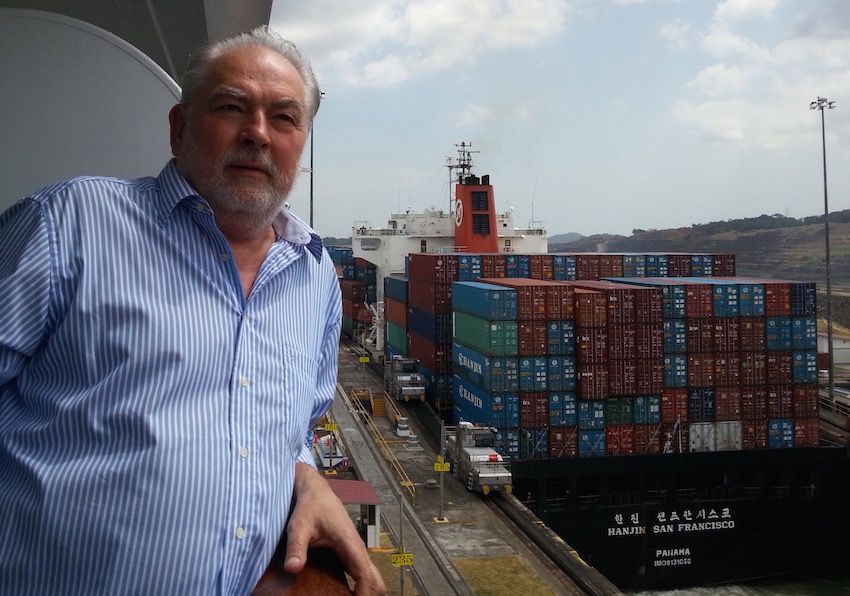 Argentina and Chile follow the next year
An old man's toy: 1970 Jag XJ 6, 2.8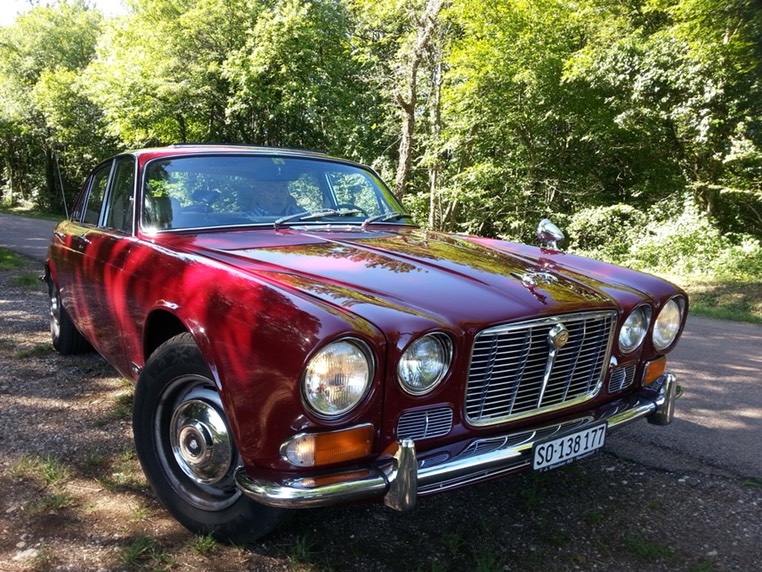 Retired, together with his angel, the old man enjoyes the oldtimer tours to Allgäu, Alssas, Amsterdam, Hamburg, Scotland, Piemont, Burgundy…
… leisure in "Bella Italia", Georg's favorite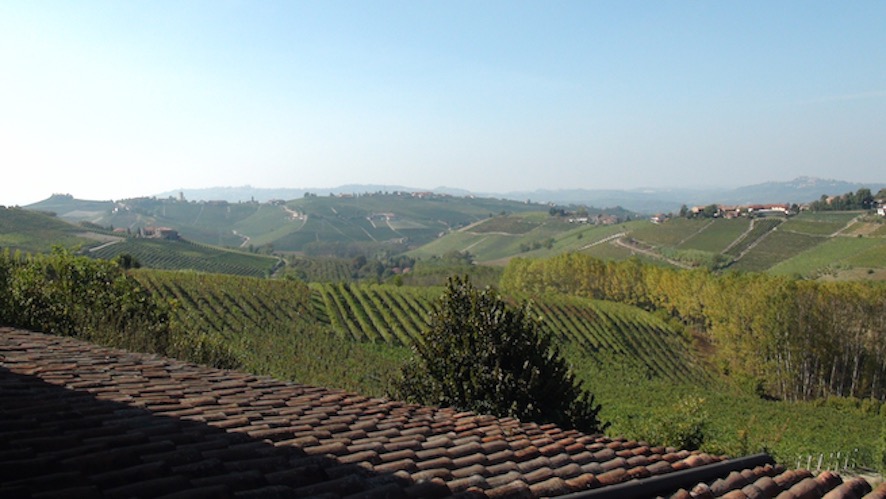 Neive
2014, Amsterdam (in contrary to his friend Bohouš (poetry and shot put)], Georg forgot to hold back his beer tummy; in-between Martie) © Marlies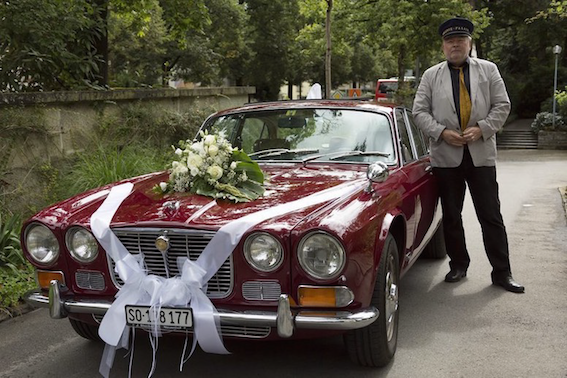 Aeberhard's limousine service fails because he is known to tell wrong jokes to the newlyweds, i.e.: "A bachelor is a man who never makes the same mistake once."
2014, the twins are 19 years young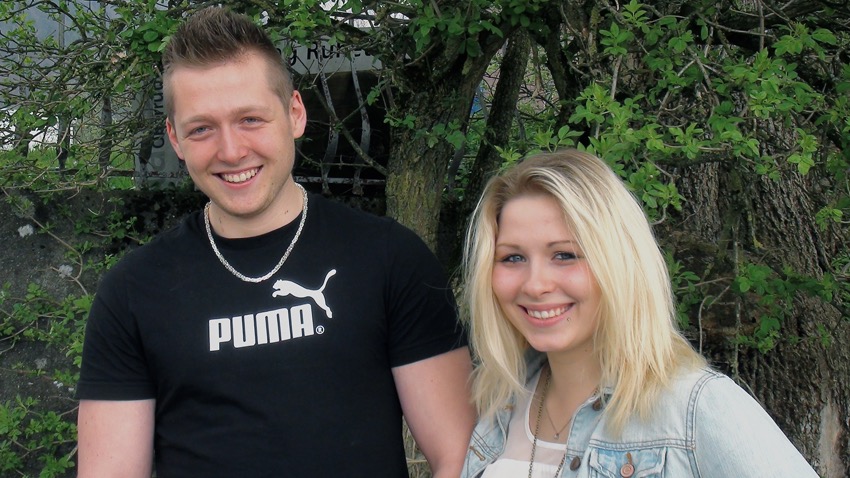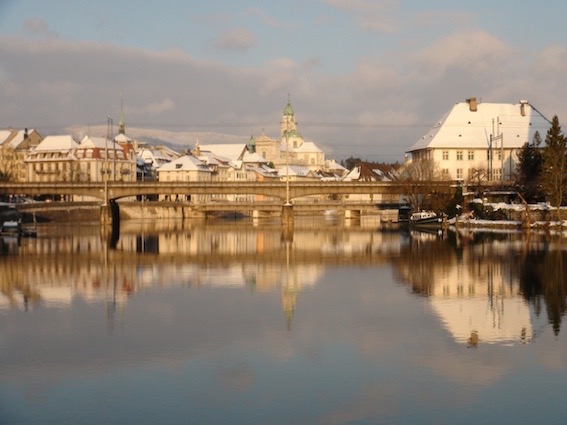 In the Ambassador town, here Georg Aebehard awaits the last hour, to become really blank (wiped out).       Though from time to time he reflects upon life and puts it down in writing:                https://www.amazon.com/Rien-Ne-Va-Plus-Coincidences/dp/1943103062/
"Rien Ne Va Plus is a collection of individual coincidences which are lined up in chronological order but may be read by themselves. The stories reach from Prague to San Francisco; they are biographical, each one telling of a unique occurrence, sometimes short as an anecdote, sometimes a full story several pages long…"
▶︎  Rien Ne Va Plus (publisher's clip)

His last wish?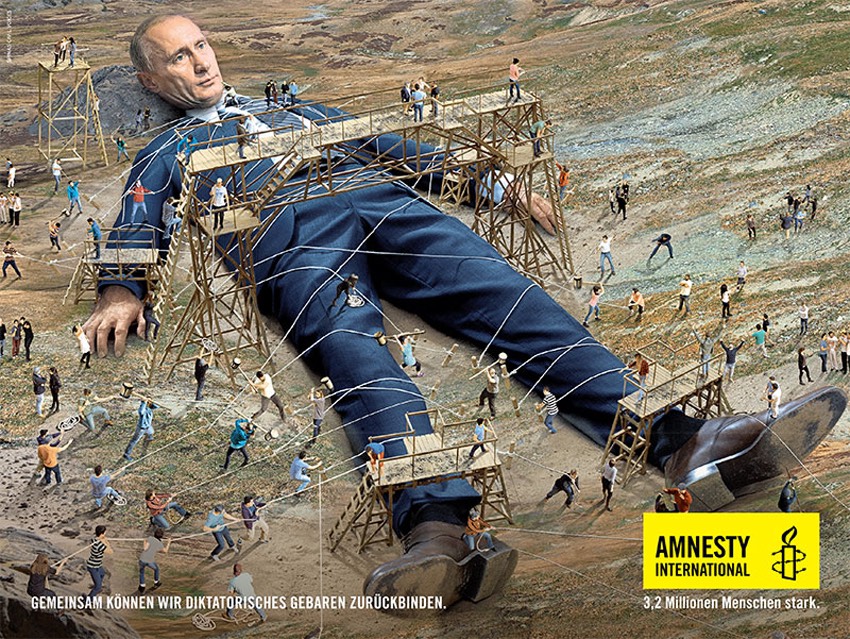 Tie down the Russian evel for ever ("na věčné časy a nikdy jinak")
Georg commemorates the 50th anniversary of the Russian Occupation of Czechoslovakia by a reading from his second book, this time written in German ("Gone To The Dogs…") 
Down the river his ashes are going to flow: Aare to Rhine, to Rotterdam, to the North Sea, to the Atlantic Ocean - and either he's going to rain on you or the ashes will flow around the world as fas as San Francisco...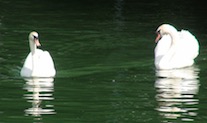 And remember, says Georg Aeberhard:

Addendum:
Georg Aeberhard finds the proof that there is Eber (boar) at the beginning of Aeberhard: